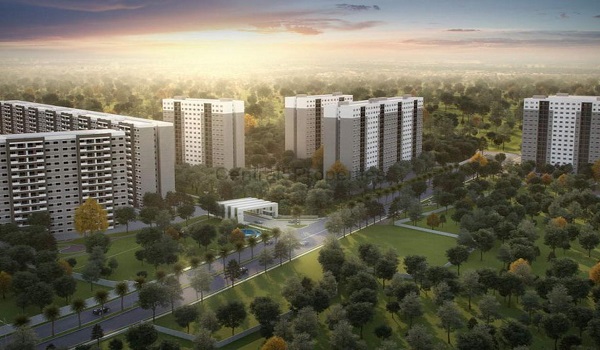 The real estate scene in Bangalore is booming currently. With a lot of work opportunities for the youth, increased buying power and increasing housing needs, residential properties are in high demand. One of the main factors considered by buyers is of course the location. In this article, we explore Panathur Road near Marathahalli and Kadubeesanahalli area in Bangalore. The Outer Ring Road has been one of the major hubs for IT and ITES organizations for some years now. In fact there is also an association of the companies on Outer Ring Road called ORRCA or Outer Ring Road Companies Association. This organization plays a major role in improvement to the infrastructure in the area, including public transport, roads, pedestrian walkways etc. This makes it a boon to residents in and around the Panathur area, where there is a major collection of companies. Panathur Road also connects to Sarjapur Road, Varthur and Whitefield. That gives it an edge for a large number of employment choices and possibilities. The closeness to NH44 is also a big plus. Some of the well-known tech parks in the area are: Embassy Tech Village, HUL Research Center, Pritech IT Park, RMZ Ecoworld, Prestige Tech Park to name but a few.
Public transport is great in this stretch of road. With a six lane Outer Ring Road connecting major arterial locations of Bangalore, it is connected by BMTC buses in plenty. The nearest railway stations are Bellandur Road Railway Station and Carmelaram railway station. The Bengaluru International Airport is about 47 kms, with excellent connectivity via air conditioned BMTC Volvo buses. There is a metro line coming up in the area. Although in the short term it causes inconveniences, this would be a major plus for the residents when the metro lines are ready. It would reduce commute times and costs in a big way. Another infrastructural development coming up is the peripheral ring road. This would be another major connection to other localities of Bangalore. Schools and education is another major factor in this locality. There are fine schools like Orchid School, Vibgyor and Bachpan School apart from many preschools and nurseries. The New Horizon College also has a large campus in the locality. Healthcare, yet another important factor is also in plenty. Sakra World Hospital, Foster Hospital, Manipal Hospital are all in close proximity. Basic essential needs like supermarkets and grocery retailers are also in abundance.
Properties both in rentals and purchase are very popular in this locality. There is an entire range of options for residents, ranging from apartments of all sizes and features, to villas and independent houses. Luxury homes are also in demand in the locality. Many large builders of Bangalore are offering large multistoried apartments in and around the Panathur Road area. The trend is more towards homes with two and three bedrooms and also luxury housing. Luxury villas are also gaining popularity in the locality. In the Bangalore East zone, Panathur Road is among the top preferred location choices.
Sobha Limited new project Sobha Sentosa
Sobha Limited Blogs